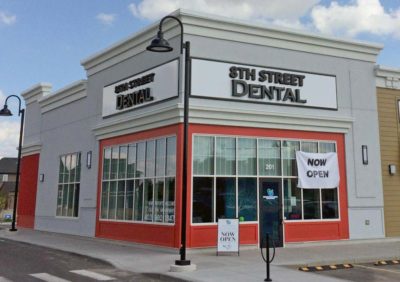 At 8th Street Dental, our goal is to provide you and your family with quality dental care in a friendly and professional environment. With our team approach to dental care, Dr. Rahul Mathur and his dental team of hygienists, assistants, and dental administrators work together to meet your oral health needs. Our Team stays up-to-date with the latest dental technology and continuing education.
Dr. Rahul Mathur is a general dentist in Airdrie 8th Street Dental Clinic conveniently located at 201-1 Midtown Blvd SW, across from Tim Horton's in the new Midtown Plaza in SW Airdrie. Our General Dental practice offers Family Dentistry, General Dental Services, and Dentistry for Children. We also provide Cosmetic (Restorative) Dentistry, Emergency Dentistry, Orthodontic Dentistry, Dental Implants, Root Canal Therapy, and Wisdom Teeth Extraction. All Dental procedures are completed by our General Airdrie Dentist, Dr. Rahul Mathur.
A Family Friendly Dentist in Airdrie.
At 8th Street Dental, we are pleased to offer our patients the convenience of Direct Insurance Billing and offer Evening and Weekend hours to meet the needs of your busy lifestyle. Our Airdrie Dentist Dr. Rahul Mathur and his team understand that every patient has specific needs and that these needs cannot always be met through a standardized approach. We strive to provide both comprehensive and friendly care welcoming your suggestions on how we can make your dental visit more comfortable.