Your Choice for Dental Implants in Airdrie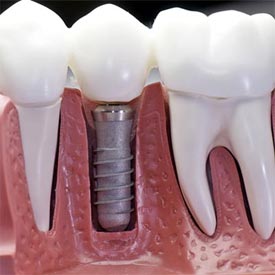 Dental implants are used to replace one or more missing teeth by using an artificial root made from titanium metal or ceramic. If you have missing teeth, our dental implant treatment might be the solution you are looking for.
Dental implants are surgically placed into the jawbone, and after a period of healing, the dental implant is fit with a dental crown or bridge, to complete the restoration.    
Dental implants are recommended for patients with dentures in order to help improve the fit when concerns such as poor bone level are causing an improper fit. Pain and irritation to the gum tissues and the need for the use of denture adhesives are also common reasons why dental implant supported dentures are used to help the fit of your dentures.    
View About Implants Movie
The advantages of dental implants include:
Improving the Natural Appearance of Your teeth

Conserves the Surrounding Structure of Teeth

Conserves Bone Density

Reliable and High Functioning

Long term & Easy to Care For
The success rate for dental implant treatment is high. Dental implants are a permanent restoration, and unlike a denture or partial denture, it is not necessary to remove the dental implant at night. Dental implants are the closest restoration to your natural tooth structure
Find Out if Dental Implants are Right for You
Candidates for implant treatment are people that generally have good health and practice proper oral hygiene practices. Adequate bone levels in your jaw are also required to support the dental implant, and healthy gum tissues that are free of periodontal disease is a must in order for your dental implant treatment to be successful.
Implants can benefit those missing some or all of their teeth.  Implants can be used individually, or to support a number of dental prostheses, including implant-supported bridges and dentures.
We know that relaxing missing teeth with a high functioning restoration is important to you which is why we offer Dental Implants to help you achieve your goal for optimum dental health.