Your Choice for Partial Dentures in Airdrie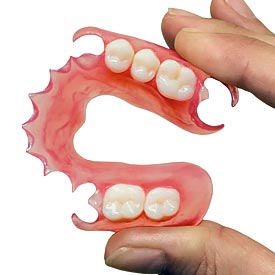 At 8th Street Dental, we offer multiple solutions for patients with missing teeth with our Partial Dentures.
Why Partial Dentures?
If you are missing one or more teeth, a removable partial denture is a reliable option to reestablish the function of your mouth. A partial denture is made from durable materials that resemble your gum tissue and missing teeth. A metal framework is also made to clip onto the remaining natural teeth in order to hold the denture in place.
Partial dentures are used primarily to:
Replace of missing teeth

Improve your ability to chew naturally, and with confidence

Make it possible for you to eat your favorite foods

Maintain a healthier mouth

Aid in the preservation of your remaining natural teeth

Help prevent and treat problems of the jaw joint (TMJ)

Improve speech

Help develop a confident smile

Support the structures of your face for a more youthful appearance

Enhance your self-esteem
View About Partial Dentures Movie
Are there Alternatives to Partial Dentures?
Yes, there are alternatives to dentures! At 8th Street Dental we can use dental implants to replace missing teeth in a number of ways. Dental implants can be used to support a permanently cemented bridge, as a single tooth replacement with a dental crown and as an implant supported denture, which uses a dental implant to clip the entire into place offering more support for the denture.
Unfortunately, not everyone is an ideal candidate for dental implants. If you would like to find out if dental implants are right for you, we offer dental implant consultations before you consider this treatment option.
We know that restoring your natural teeth for a lifetime of use is important to you, which is why we offer Partial Dentures to help you achieve your goal for optimum dental health.