Your Choice for Dental Braces in Airdrie
Dental Braces are used to correct the misalignment of your teeth and jaw. Dental braces have come a long way and now include a wide variety of treatment options including traditional wire braces, clear cosmetic braces, and dental appliances.
When you schedule your consultation for dental braces, the team will identify the best orthodontic options for your needs.  We invite you to contact us to schedule your complimentary meet and greet orthodontic consultation to learn more about your treatment options. 
View Dental Braces to Align Teeth Movie
Our Braces Include:
Traditional Wire Braces

Clear Orthodontic Braces

Preventative Appliances
The Benefits of Braces
Braces are a safe and effective way of treating teeth that that are not aligned. We use dental braces to correct spaced teeth, teeth with cross-bite issues, crowded teeth, and many other orthodontic problems. The goal of having a straight smile can be a simple confidence boost and is an immediate way to make a great first impression, but orthodontic dentistry does more for the health of your mouth, besides aesthetics.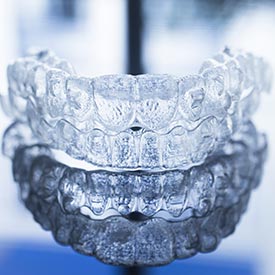 Teeth that are not properly aligned teeth can cause dental issues such as tooth decay and gingivitis because misaligned teeth are harder to clean. Improving any bite irregularities will also help you chew your food better and speak clearly.
Benefits of straighter teeth include:
Easier brushing, flossing, and cleaning

Less wear on your teeth over time. When your teeth are aligned properly, the teeth share the load of the biting and chewing.

A comfortable bite and relaxed jaw muscles put less pressure on your jaw joint, including the teeth, the gums and the supporting structures, including your head and neck muscles.
Orthodontics for Children and Adults
There is no age limit for dental braces — many adults are taking advantage of today's treatment options to correct their smile for healthier teeth and gums.
We know that your smile is important to you and correcting misaligned teeth with our dental braces is one of the many dental health services that we offer at 8th Street Dental.